International Investment Partners (IIP) is a privately held international company providing strategic management services, financial and transaction consulting, as well as support to governments, corporations, and entrepreneurs in various projects.
International Investment Partners specializes in cooperating with companies and working with assets in the metal industry, oil and gas extraction, public utility services and electric power transmission, renewable energy sources, and public infrastructure – including the development of railway transport, ports and motorways.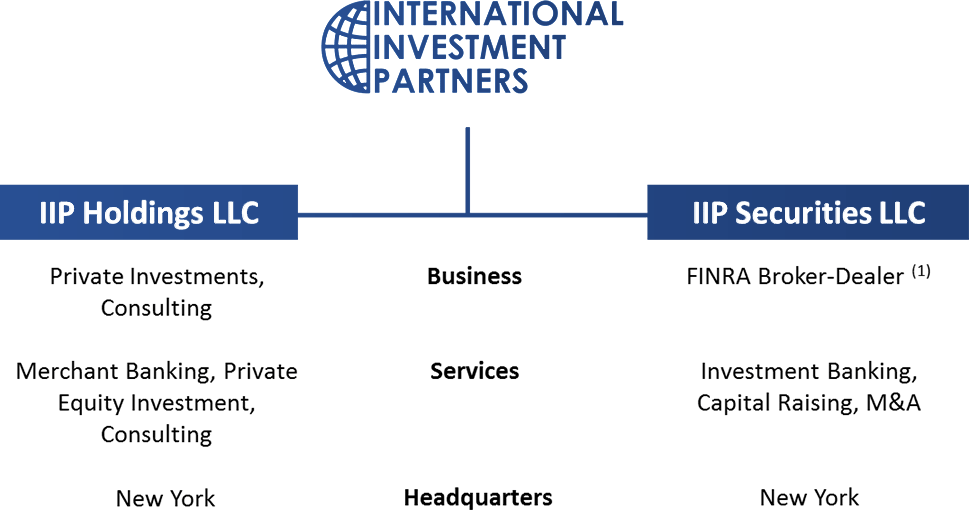 The structure of IIP includes IIP Securities LLC, a broker company licensed by FINRA, and IIP Holdings LLC, which specializes in consulting and private investments.
IIP principles
1.
Confidentiality
We provide advice to our customers on a fully confidential basis. We do not advertise our projects under any circumstances.
2.
Honesty and fairness
When advising our customers, we advise them on the ways to close a transaction or to withdraw from it, it depends entirely on the real prospects of the project.  Our advisory services are aimed at maximizing the long-term gain for our clients.
3.
Precise evaluation and common sense
Only clear and definite proposals ensure a successful outcome of any transaction and project.We thoroughly analyze the project and the drivers are guided exclusively by economic categories
4.
Access
First of all, we offer our customers the access to the property opportunities, to the key decision-makers, to the heads of local authorities, to the influential companies and officials, and to the investment assets.
5.
Premium Service
The head of IIP provides support to each customer project. Your transaction or project deserves attention of seasoned professionals.